Look what my human got me! Well, actually she got it because she had some credit on Zulily. But anyhow, it's a new laptop! This is almost as good as getting my own iPhone!
I just need some help putting it together. It's already got stickers on it and everything.
It even has a computer mouse! Although my human says I can't use it because I might eat the string. She thinks it should have come with a wireless mouse.
Here it is, all put together! I can't wait to get online and start doing blog posts and my Instagram all by myself.
Now all I need is the password to the internet and I'm ready!
Wait a minute! Something isn't working here. I think this laptop is missing a whole hard drive!
Well, I guess I will just do what I usually do with my human's MacBook… sit on it.
Note: If you want to get this cute laptop scratcher, it is available on Amazon. We are Amazon Associates, so we will get a small commission if you click through and make a purchase.
* * *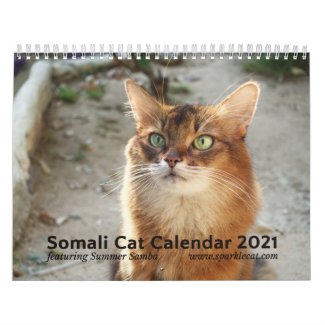 2021 Somali Cat Wall Calendar, Starring Summer
See all of Summer's merch at her
her Zazzle Designercat Shop