I love that human birthday custom — they celebrate by getting gifts for us cats. My human's boyfriend's birthday was Friday, and she got us this very cool chair. It is plush and comfortable and great for napping. We love it! Unfortunately, her boyfriend does not get it. He thinks the chair is for his sole use and he is trying to keep us out of his office so we can't get our fur on it! We are perfectly willing to let him use this chair now and then, so I don't understand why he is being so selfish.
Sometimes he forgets to shut the door to his room all the way so we get in anyhow. I really should punish him for his attitude by sneaking into his eBay account and ordering a bunch of cat toys.
Since his office doubles as a music room, Binga thinks this chair is a good place to play the cello.
She will let my human's boyfriend know when she is done with the chair. But she is going to take her time.
* * *
---
---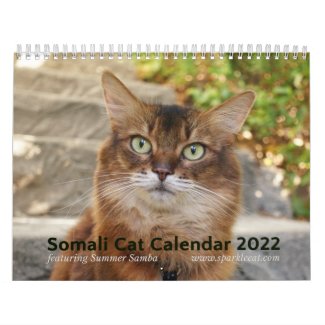 2022 Somali Cat Calendar Starring Summer Samba
See all of Summer's merch at her
her Zazzle Designercat Shop