The weather here in southern California was amazing this weekend! It was in the low 70s and sunny. So my human took advantage of that and took me out both Saturday and Sunday. I was very happy about that.
As you know, one of my favorite things to do outside is watch birdies. My human promised me she knew an awesome new birdie watching spot for me.
At first, when she put me here, I didn't like it! The wall was at too much of an incline and it did not feel comfortable at all. Even though, as a kitty, I'm supposed to be a master of balance.
I was just about to ask to be removed from the wall, when I realized…
There were birdies right over my head, in the tree branches that were hanging over the wall! It was pretty awesome after all.
Afterwards, I agreed to do a little modeling while the lighting was good.
Other posts you'll enjoy:
* * *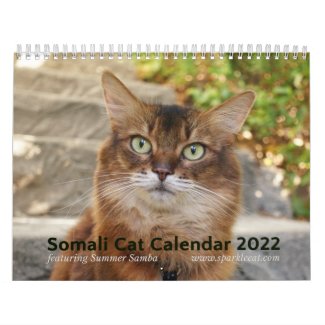 2022 Somali Cat Calendar Starring Summer Samba
See all of Summer's merch at her
her Zazzle Designercat Shop