Okay, I will admit that Hollywood is only about 20 minutes or so from our house. So my human going there for an afternoon isn't really that big of a deal. But she still stopped by one of those tourist trap shops on Hollywood Boulevard to buy some things for me.
She hunted endlessly for just the right Oscar. But they all said things like "Best Mom," "Best Brother," "Best Girlfriend," things like that. None of them said "Best Cat," much less "Best Therapy Cat" or anything similar. Finally she settled on something she felt was appropriate.
Here it is up close, in case you couldn't read it in the other photo.
I also got this refrigerator magnet.
The t-shirt didn't work out as well. The smallest size they had was an Infant 6 Months, and that is apparently too big for me. I guess it's the thought that counts.
* * *
---
---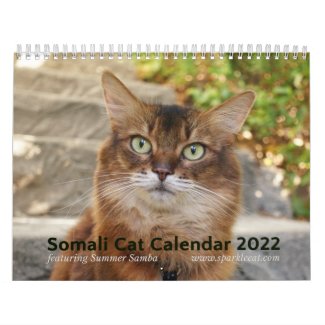 2022 Somali Cat Calendar Starring Summer Samba
See all of Summer's merch at her
her Zazzle Designercat Shop