It's been a record hot summer week in our area! We are so glad for A/C right now. I was feeling super active and playful yesterday because it was still morning and the high was only going to be 96 or so. Can you guess where I am?
How many of you guessed the bookcase in the living room? My human says that if I jump up there again, she's going to consider doing a Toilet Paper Challenge rematch for me. Because this is a lot taller than the toilet paper wall was.
The day before was another story. The high was 106F! I was totally immobile. It was cooler downstairs, and Boodie decided to hang out down there. (She's no dummy.) But my human was in the office upstairs, so I had to supervise her.
Then she had the nerve to try to use the inversion table without me. Fortunately she did not shut the door all the way, so I could make sure she was doing it properly.
So that's been our hot week here, along with some modeling and bag play. The weather's cooling down to around 90 for the end of the week, so maybe I'll go to a pet store! We're almost out of my cat food.
And with any luck, my human will pull out the matatabi stick for me.
* * *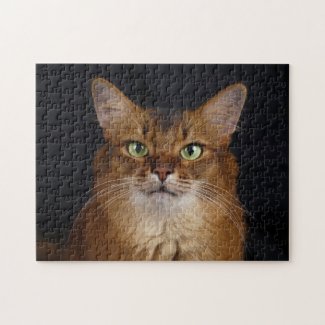 Somali Cat Photo Portrait Jigsaw Puzzle
See all of Summer's merch at her
her Zazzle Designercat Shop