Yes, I went to the pet store earlier this week, but that was for the outside kitties. I was running out of my own dinner! So my human took me to one of the small local pet shops that sells what I eat. A huge puppy came in just before us, but did not stay for very long.
Once he left, I was allowed to wander more freely.
Mostly I stayed in the cat section anyhow. I checked out the cat litter, even though we don't need any at the moment.
I really do enjoy browsing at the pet shop! Even things we don't need.
Although I do say, you can never have too many cat scratchers!
I had fun checking out the cat treats, but my human swears we have a whole cabinet full of treats for me. So I didn't get any more this trip.
All too soon, we headed for the frozen section to get my brand of cat food. I visited with the worker at the cash register a bit before we headed home. I always have a good time at the pet shop!
Other posts you'll enjoy:
* * *
---
---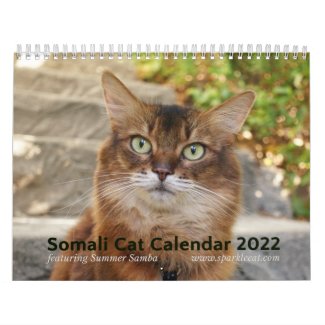 2022 Somali Cat Calendar Starring Summer Samba
See all of Summer's merch at her
her Zazzle Designercat Shop