Late Monday, my human got a call from a casting director who was looking for a cat that could do tricks for some sort of variety show. The one catch — the Zoom audition was first thing the next morning! Inwardly my human groaned because she is not a morning person. But she got up extra early so she could set up and put on some makeup. Like the casting producer was going to look at anyone but me.
My human brought out my usual props for tricks, plus a dress. And we wound up using it. When the casting producer asked what I did, my human told him some of my tricks, then added, "She even likes wearing dresses!" And she promptly put this dress on me on camera. I even jumped through this hoop wearing the dress.
Of course I did the usual… high fives…
Ringing my bell… eating lots of treats.
I even waved bye-bye at the end.
I hope the casting producer liked me! He seemed to have lots of fun watching me, and I sure had lots of fun running around in my dress while my human talked, and doing tricks when she needed me to. I purred through the whole audition. I've done quite a few Zoom auditions and none of them have panned out, but there is always a first!
Other posts you'll enjoy:
* * *
---
---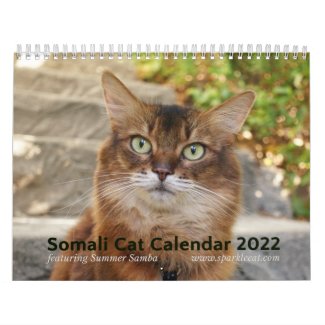 2022 Somali Cat Calendar Starring Summer Samba
See all of Summer's merch at her
her Zazzle Designercat Shop