I'm always so happy to be back at a cat show! Can you tell I was ready to meet my public?
This was supposedly a quiet show without a lot of spectators showing up, but you could have fooled me! Lots of people stopped by to see me! Some of them even knew me from previous cat shows, or social media!
I didn't wear absolutely everything we brought, but I did wear my pink sweater jacket. I also rang my bell for a lot of visitors.
And I wore my matching sweater and knit hat, since everyone likes it on me so much! I also went live on TikTok a couple of times.
They sold pizza for lunch, so my human got a slice… but she didn't let me have any! She said I practically ate my weight in treats at the show anyhow.
Speaking of treats, they had root beer floats in the afternoon. My human got one, although she regretted it the moment she finished it. That much sugar doesn't really agree with her!
I did take breaks when I needed to. My human does her best to keep from overworking me. She lets me dictate when I want to be social. If I walk back into my enclosure, it means I am done visiting for a while.
Because I love meeting people and spending time with my human — and because she lets me me pace myself — I really enjoy these shows. And if you want to know why we do them, I think the comment on my Instagram above explains it.
Other posts you'll enjoy:
* * *
---
---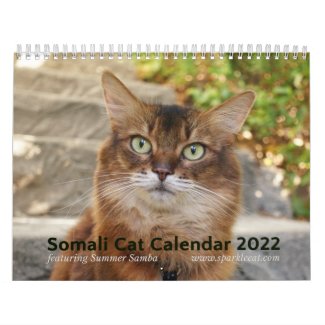 2022 Somali Cat Calendar Starring Summer Samba
See all of Summer's merch at her
her Zazzle Designercat Shop