After my outside photo session with the ladybugs a couple weeks ago, my human took me for a walk. And she totally forgot about the photos she took! But they are worth sharing, so here they are.
I usually jump right on this stucco wall to do some birdie watching, and to pose for a few photos. It's one of my routines.
Of course I wanted some treats, so I put on my cutest face. My human was so busy taking photos that she didn't give me any right away.
So I did what I often do whenever my human is slow about handing out the treats — I stood on my hind legs! For some reason she seemed to be bothered about that. Like, really bothered!
I did get my treat, but she also made me get off the ledge. I don't know why. I'm a cat. I was not going to fall backwards!
Other posts you'll enjoy:
* * *
---
---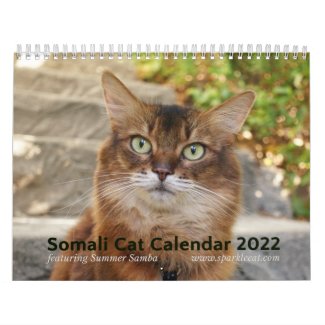 2022 Somali Cat Calendar Starring Summer Samba
See all of Summer's merch at her
her Zazzle Designercat Shop