The other day I got my first box here! I wasn't sure what to do with it in the beginning.
But don't worry, I learned really fast!
I think it's the most fun plaything… especially when combined with other fun playthings!
Uh-oh, I think something may be wrong!
I didn't know boxes had a toll fee!
In case you were wondering what was in the box — it was this!
To be continued….
* * *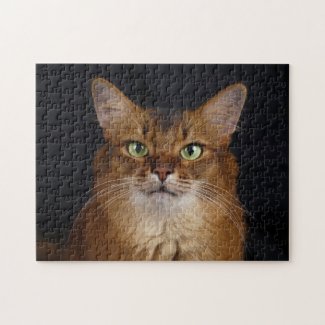 Somali Cat Photo Portrait Jigsaw Puzzle
See all of Summer's merch at her
her Zazzle Designercat Shop