I wore a lot of new clothes in 2018! But some I liked more than others. I thought you would like to see what some of my own personal favorite outfits of 2018 are, so I pulled them out again to model just for this blog post!
I only modeled this cute harness dress once, which is a bummer because it even has a matching red leash. It's just not secure as harness, but I think it makes a very pretty dress!
I think everybody loves my raspberry hoodie! I always get compliments when I wear it, so here it is again.
Another favorite of yours, and mine, is my princess dress! Usually I have a crown or tiara to go with it, but I think it is cute all on its own too.
I only got this cable knit and plaid sweater dress recently, but I already love it! Don't worry, I have at least one cold weather trip planned so I can wear it out.
This evening dress is one of my absolute favorites from this year! I always feel extra special when I wear it, and people pull out their cameras when they see me in it.
So what's my favorite outfit of 2018? You may even be able to guess!
It's my nurse's outfit! I really enjoyed making my therapy cat rounds in it for Halloween, and I plan to do it again in 2019!
Are these outfits I picked some of your favorites too? Or did I miss some?
* * *
---
---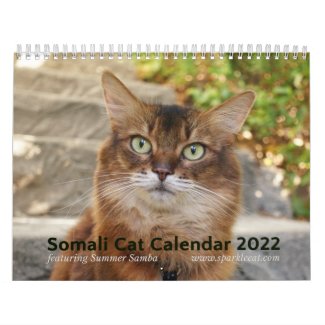 2022 Somali Cat Calendar Starring Summer Samba
See all of Summer's merch at her
her Zazzle Designercat Shop