You may be wondering what my human got me for Christmas, it wasn't a gift to unwrap! It was an experience! She packed up some of her things and my things, and we spent Christmas Eve and Christmas morning at her boyfriend's house! Although he stays in town for half the week (sometimes at our house), the other half, he is in his house that is over an hour away in the desert.
I had lots of fun exploring! Especially since I haven't been on an overnight trip since before the pandemic. My human says next time we are up, she may take me outside on my leash. My human made dinner on Christmas Eve, then they exchanged presents and watched a vintage movie called Mars Attacks. I watched it with them, but I got bored towards the end, even with all the explosions.
I got him a gift too! This squirrel ornament with the (semi) realistic looking tail. He got me catnip toys… but I think my human secretly passed them over to him when I wasn't looking.
Back home, there was one present left to open. It was from a friend of my human's, who met her through my Instagram account a few years ago! Even though they became friends because of cats, they also have roots in the heavy metal music scene but hadn't met before.
Because of that, you won't be surprised by these gifts. One is a cat potholder, and the other one is a golden skull bottle opener.
My human says she should have brought the gift package to her boyfriend's, since (being a guy) he didn't have a potholder and she had to use a kitchen towel to get dinner out of the oven.
And of course I got the box! So it was an awesome Christmas weekend all around! I hope you had a nice time too.
Other posts you'll enjoy:
* * *
---
---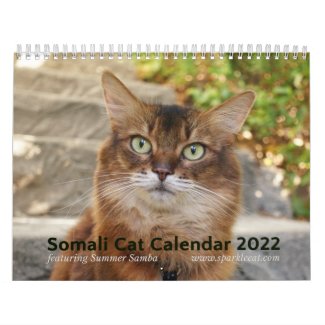 2022 Somali Cat Calendar Starring Summer Samba
See all of Summer's merch at her
her Zazzle Designercat Shop