I had a very busy weekend! I competed in a cat show again… except this time my human just dropped me off there! She had some sort of digital publishing conference to attend, so my breeder (who was also showing her Aby kitten, CG) prepped me and took me to the rings.
Actually I did not mind — in fact, I thought it was fun! My breeder tried a few different things with me for fun, playing and stuff, and it made my behavior for the judges fresher and more energetic! Do not tell my human, but I didn't really miss her. My breeder is a pro at showing cats and, to be honest, my human is pretty much a greenhorn.
At the end of the day Saturday, my human picked me up and took me home, but she was only around for about an hour. Then she went off to the Stray Cat Club, a party to benefit Stray Cat Alliance.
Stray Cat Alliance helps community cats in southern California, and communities in general, especially low-income ones, with TNR, low-cost spay and neutering, education about stray and feral cats, and advocacy. It is one of the local groups that my human regularly donates to. Stray Cat Alliance helps kitties in need, like the pair you see here, who had mange and would have died if not for SCA's help. The pair healed, learned to trust humans and were eventually adopted… together!
Part of the evening involved a silent auction, and my human donated a small wrapped canvas featuring Sparkle's paw and candy hearts. Here it is on the table. It was a last minute entry — she didn't get it to the Stray Cat Alliance volunteers until a couple of days before the event so there was little chance for anyone to bid early on it.
Bidding on it started at $15 and my human was really excited when a couple of people started bidding against each other.
It finally sold for $60, which is less than its listed price on Zazzle, but still more than my human paid for it (she got it during one of Zazzle's sales).
Even though my human was dead tired by the time she got home, she still managed to get up early enough to bring me back to the cat show the next day and head back to the digital publishing conference. It was a productive weekend — out of 10 rings, I had three finals. In one ring, I was Second Best Allbreed kitten! My next show won't be until November… and it will be my last one as a kitten. After that, I'll be entering in the Alter class in TICA and CFA's Premier class (that's what they call Alters there). That means I'll be competing as an adult! Honestly, I don't feel very grown up.
* * *
---
---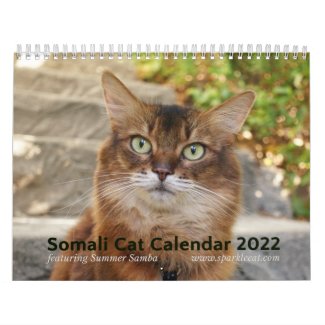 2022 Somali Cat Calendar Starring Summer Samba
See all of Summer's merch at her
her Zazzle Designercat Shop