Over the weekend, I got to work in a U.K. commercial for pet stairs. So my human wasn't sure I was up for a pet shop visit on Monday. But when she reached for my harness and leash, I was pretty happy about it! In fact, after she packed the leash and came back to put my harness on, I was waiting for her just like this.
It turned out to be the newer pet shop, and that one's always fun because the owner gives me treats and does high fives with me.
There's lots of room to wander at this shop, and I spent a lot of time happily rubbing on lots of things, like this giant pet bed.
Also the display shelving.
I was having so much fun that my human said it took "forever" for her to get to the food section to buy my dinner.
When we checked out, I posed nicely for photos. I guess I'm still feeling like a star after the weekend's shoot.
My human didn't get enough photos for a post about the shoot, but when they upload the ad, I will share it, with the few photos she did take!
Other posts you'll enjoy:
* * *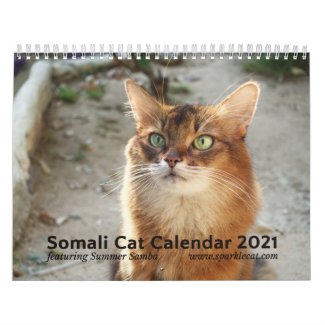 2021 Somali Cat Wall Calendar, Starring Summer
See all of Summer's merch at her
her Zazzle Designercat Shop