My human is still fascinated by the snacks here in St. Louis. The funny thing is she isn't even particularly a fan of rap. So I'm not sure why she made me pose with this.
I stuck with cat food… and the bowl it was served in.
Both of us managed to clean up our acts for our Instagram Tips session, which we did with Jessica Spawn. My human never did get any photos of the session other than this one from before it started. She was too busy trying to get it together. I think the humans did well. I was very good and sat up front on a table the whole time.
Then we had the big awards show night! Both my human and I got dressed up. This is the dress I got at the Pet Expo a few weeks ago.
I actually only stayed for the reception. My human was busy helping to hand out awards at the CWA Awards Banquet, so I wound up having dinner back in the hotel room.
Pet Safety Cat Casey helped hand out the awards. It was more his sort of gig than mine.
It turned out that one of my blog posts won a Special Award, and so did one of my human's articles! That surprised us both.
Plus my human won one of the most prestigious awards CWA gives out. She was shocked because she knows how many super capable and qualified members the Cat Writers Association has. So it was a really big night.
So that's another Cat Writers Conference done for the year. It's time for us to return home.
* * *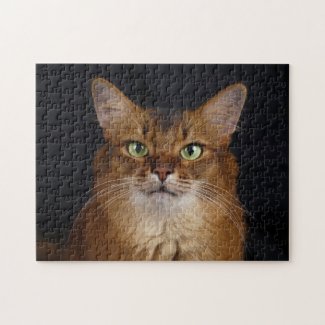 Somali Cat Photo Portrait Jigsaw Puzzle
See all of Summer's merch at her
her Zazzle Designercat Shop