2020 was kind of a challenging year for photos. I couldn't go much of anywhere other than outside around the house, and the fashion was really bad. But my human still managed to get some really awesome photos! A couple you see here wound up in my Zazzle shop. The one above is on an invitation, and one of the others is in my calendar. I don't know if the photos I picked are necessarily the very best, but they were all standouts among the thousands of photos my human took.
This is the one from the calendar, and it happens to be my human's favorite photo of the bunch. Sometimes everything just comes together to create a really fun photo.
Here's a photo that just happened. I was hanging out on the dining room table at the right time of day for some good lighting. Plus it was the linen tablecloth, and not the really busy print one. All my human had to do was grab her good camera and take photos.
There are lots of nice portraits of me from this past year, but things really came together for this one. The bougainvilleas were blooming, which added some color to what would otherwise be a mostly green background. And the late afternoon light worked well too. My human just had to snap a few pics before I got bored.
This last photo, or one of the alternates from this shoot, will most likely be in my 2022 calendar! Because I am already thinking that far ahead. But for now, I'm just looking forward to getting 2021 started.
So did you like my pics? I tried to pick ones that were a little bit unusual. Let me know what you thought in the comments.
Other posts you'll enjoy:
* * *
---
---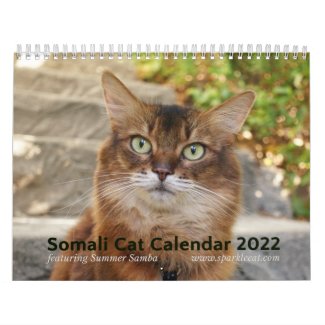 2022 Somali Cat Calendar Starring Summer Samba
See all of Summer's merch at her
her Zazzle Designercat Shop