First off, I have to apologize a little to my pals d'Artagnan Rumblepurr and Inigo Flufflebum because it has taken me so long to post this! But it actually wasn't easy for me to do. My life is such an open book (and blog) that it's hard to come up with stuff none of you know. Even harder was coming up with 7 blogs that have not already gotten this award or something similar (and I Googled like crazy to check). Nearly all my friends have received it! But in any case, I'm extremely flattered and grateful to Rumblepurr and Inigo for this honor!
Here are the rules:
Copy and paste the Kreativ Blogger picture onto your blog.
Thank the person who gave you the award and post a link to their blog.
Write 7 things about yourself we do not know.
Choose 7 other bloggers to award.
Link to those 7 other bloggers.
Notify your 7 bloggers.
So here's the first hard part: 7 things about me you didn't know before.
1. I like balsamic vinegar and tried drinking it once.
2. I shake like a leaf when my human takes me to the vet. She's always worried I'm going to have a heart attack!
3. Even though I hate the dog, I was very concerned when she had to undergo major surgery to have her spleen removed. All us cats were worried — we gathered around her boyfriend's office doorway when he brought her home!
4. I usually eat less than the other two cats, but even when I do eat as much as them, I still only weigh about half as much as they do. (Don't kill me, you overweight kitties! I can't help it!)
5. I don't like sleeping on the bed that much when my human's boyfriend is home. But when he's on tour, I usually sleep on his pillow.
6. When we cats had to be boarded for a few days, the staff there called me "the instigator," because I never got in trouble, but I'd get Binga riled up and make her act out.
7. When I use the litter box, I spend a lot of time pawing the edge of the plastic box to get off the cruddy litter feel. It makes a lot of noise when I do this. I especially enjoy doing it when the humans are trying to go to sleep.
Now here's the other, harder part — picking 7 blogging pals:
1. The Conscious Cat — It's not really written by a kitty, but a human author named Ingrid King. She writes great posts about conscious living with your pets. I recently reviewed her wonderful book, Buckley's Story.
2. Adventures in Catnip — I love seeing what Micky, Fionna and Jonah are up to. Plus Jonah's one floppy ear and always-intense facial expressions are impossibly cute!
3. Save Moki — This blog isn't updated anywhere near enough to satisfy me (Moki's human is a college student and probably pretty busy), but I always want to know what's going on with this brave little cat, who lives with a crippling neurological disorder.
4. Paws and Effect — It's a cat advice blog, with Siouxsie, Thomas and Dahlia offering words of wisdom. While my own column is more about how to deal with bad human behavior (because there are no bad cats, of course), these kitties focus on a variety of cat ills and problems.
5. Bztat Studios — This is the human of my Twitter friend, Brewski Butt. She's a very talented artist, along with being a passionate cat lover. This results in a lot of great blog posts! Brew also just began his own blog now (finally!) — Just Meowin'.
6. Sharon Loves Books and Cats — Being an author, I have to include a book review blogger! Sharon reviews mostly young adult books, sometimes cat books and best of all, she gives all of them "purr" ratings!
7. Now I'm a Three-Legged Cat — This is a newish blog, started in November last year for Bella, a pretty calico kitty who was attacked by a dog and had to have her leg amputated. I bet this tripod kitty will be going places!
* * *
---
---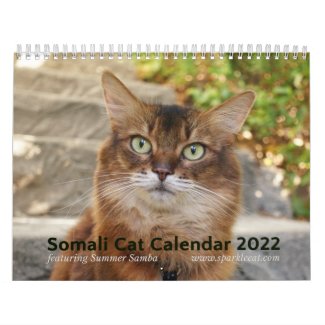 2022 Somali Cat Calendar Starring Summer Samba
See all of Summer's merch at her
her Zazzle Designercat Shop