Remember the other day when I was grabbing at a turkey tendon? There was lots more to that photo. I know I've posted my turkey tendon faces before, but I think these are my most impressive yet! I don't know what it is about these things, but I go kind of crazy when they come out.
It always starts off simply, with me taking a nice, but brief sniff.
Then it all kind of goes downhill from there!
It especially goes downhill when my human won't let go of the turkey tendon!
I wasn't giving up this time, as you can see!
My human won that round. But whether you see it or not, there will be a next time!
* * *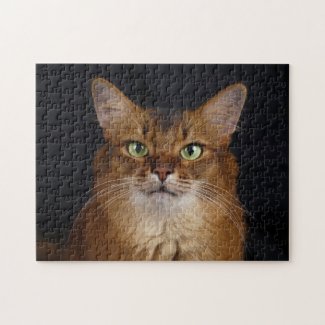 Somali Cat Photo Portrait Jigsaw Puzzle
See all of Summer's merch at her
her Zazzle Designercat Shop