Remember my modeling session the other day, where I said I had a third dress? Well, my human finally cut the tags off so I could wear it for you! She also brought out the hat again, because she thought they would look nice together.
Here's a better look at today's outfit. Doesn't this look like it's out of one of those clothing websites? I love the butterflies on the dress. We've had a bunch of butterflies showing up in my neighborhood this spring.
Here's the dress on me… but I know I can get a better angle with it.
See? When I'm modeling from the back, you can see the bow and ribbon over my waist.
Here is the dress with the hat. I think it is a nice combination, don't you?
I also got to practice my bell ringing when we finished. My human said I didn't have to wear my hat for that.
* * *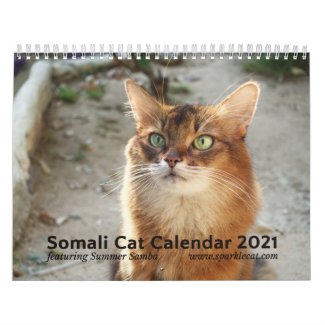 2021 Somali Cat Wall Calendar, Starring Summer
See all of Summer's merch at her
her Zazzle Designercat Shop