Can you believe I got to go shopping with my human twice in one week? This time we went to the local pet shop. The big chain store doesn't have one of the foods we eat, so she gets it at this store instead.
I love this particular store because they have an awesome toy section, and I can reach the shelves where the toys are located! So this is pretty much my first stop every time we go. You've seen me here before, I'm sure!
There were a couple of other shoppers there, and they enjoyed visiting with me. For some reason, they seem to think seeing a cat on a leash is something special. I do it all the time, so it's not that big of a deal to me.
It was just a quick stop — my human grabbed the food, let me visit with the other shoppers, and then we checked out.
My one complaint? My human did not let me get any toys! I felt a little bit cheated.
* * *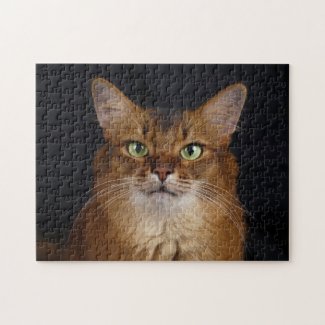 Somali Cat Photo Portrait Jigsaw Puzzle
See all of Summer's merch at her
her Zazzle Designercat Shop