We're almost at the end of 2019 so these are the last outtakes you will see until next year! I didn't want these to be left behind. Above, I look a little weary of posing with my endless supply of Santa hats.
You might not be able to tell, but I am wearing a Santa hat here… it just happened to slip off my head.
Remember the last shot of my Christmas cookie post? My human was actually trying to get a photo of me with my tongue out. This one didn't quite make it.
I should have asked my human to delete the above photo altogether!
I'm not sure what the deal was with this photo. I was anxiously waiting for my human to get dressed and give me and Boodie breakfast the other morning, but she decided to pick me up and take photos of me instead. You can tell what I thought of that!
I hope you enjoyed my last outtakes of 2019!
* * *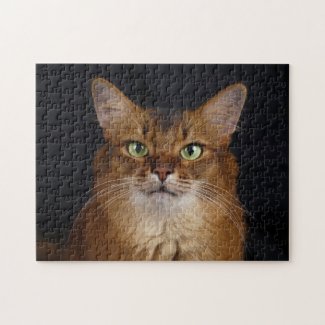 Somali Cat Photo Portrait Jigsaw Puzzle
See all of Summer's merch at her
her Zazzle Designercat Shop