There were more fun photos from my modeling session and I was tempted to share them in yesterday's post. But I thought I had enough for a whole 'nother blog post. Plus my human shot some video on the iPhone (which you may have noticed in one of the photos yesterday). Here's a photo of me sitting up. Although it's still ridiculous, at least it's in focus!
Here's a photo of me by the tree. It doesn't show off my dress very well, but I look cute in it!
The part you didn't get to see at all was that, after I finished posing in the dresses, I got to wander around on my leash for a while!
I even got to walk right up to the curb (no cars came by at all while we were out), and around the house and up the walkway to the kitchen. That was fun, and a welcome break from being cooped up inside so much.
Then before we went back in, my human shot video of me in the dresses. There was over six minutes of video, but she cut it down to a little over a minute and a half. I mean, how many times do you guys need to hear how good I am?
I hope you enjoyed these modeling day extras!
* * *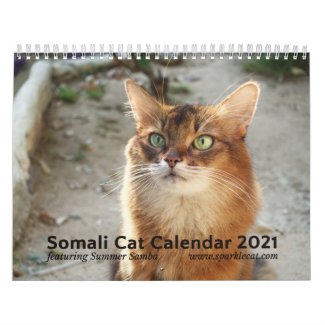 2021 Somali Cat Wall Calendar, Starring Summer
See all of Summer's merch at her
her Zazzle Designercat Shop