My human found even more of my outfits hidden away! These were buried in a box in her office, some for a very long time! This too-small dress still had the tag on it, and I don't think I've ever worn it before.
This is one of several outfits I got from Coco the Couture Cat. I'm not sure how it got separated from the others, which are hanging in my wardrobe.
Here's a view of the back. It's very pretty!
I'm not sure what the deal is with this blue thing. It came as a free bonus when my human bought a dress from a pet expo vendor a couple of years ago. I think it's a tutu for a ferret or something. It only fits me around the neck. This too still had the tag on it.
There were a couple of harnesses in the bunch that got shoved aside because the velcro fasteners weren't very secure. I really do like this pink polka dot harness dress. It's pretty, even if I can't wear it as a harness.
Here's another pretty harness that has the same issue.
I hope you enjoyed seeing these found outfits as much as enjoyed modeling them!
* * *
---
---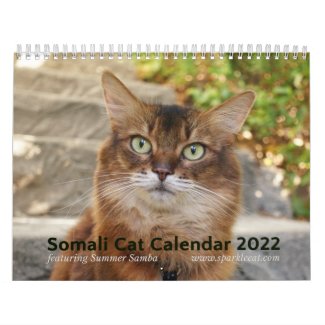 2022 Somali Cat Calendar Starring Summer Samba
See all of Summer's merch at her
her Zazzle Designercat Shop