First off, I wanted to let you know the winners of the nip buds from Thursday's post. Did I say "winners," plural? Yes I did, because I did not tell you, but I actually had two packages of nip buds! My human randomly drew the Island Cats and Anne to receive them! Concatulations to you!
The Island Cats are also getting a pawtographed book plate from me because they reminded me that they had never received one for my first book, which they got from Max the Quilt Cat. Which gives me the opportunity to mention to the rest of you that if you buy one of my books,
you can send me a self-addressed, stamped envelope and I will send a pawtographed book plate back to you — just send me a message and I will give you my mailing address. The contact link is at the top of this (and every) page. Except this month, you don't even need to send me a SASE! I will pay the postage for all book plates until the end of June. So if you already have a book and don't have a pawtographed book plate from me, let me know!
Now let's get onto the other topic today: the Petties. As many of you know, I won last year for Best Cat Blog. I was surprised and flattered to win because I thought the competition was pretty stiff — and I think it is even stiffer this year! According to the rules, last year's winners are eligible to be nominated again this year. It would be pretty awesome if you nominated me again, but if you want to give another cat blog a chance, I think that's pretty awesome too!
In addition to Best Cat Blog, there are a couple of other categories that I could be nominated for… and that I think there are also other blogs that are equal to or better than mine: Funniest Blog or Blogger (I know some readers think I'm pretty funny, even though I am not funny 100% of the time, and I know at least three cat bloggers for sure who I think are funnier than me!); and Best Designed Blog. My human is pushing for the latter because the description for the award reads, "A pet blog that stands out to you as being well designed and/or includes artwork or photography that makes visiting it a pleasure to the eyes," and she works very hard on the photography for my blog (and has won some awards for her photos too!). Plus she designed the colors, modified the style sheet a lot and oversaw the layout for my blog.
Oh, and there is one more category I actually would really like to be considered for: Best Blog Post. I looked through my past year's blog posts and this one really stood out: Celebrating National Feral Cat Day — for Humans and Cats. This is personally one of my favorite posts I've written and it's about a cause I am passionate about.
I am really looking forward to see which of my pals become Petties finalists this year!
* * *
---
---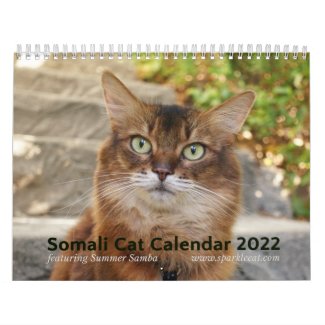 2022 Somali Cat Calendar Starring Summer Samba
See all of Summer's merch at her
her Zazzle Designercat Shop