I'm a social media influencer for Litter Genie at the moment. They send me promotional items once a month and I'm supposed to do an Instagram post with them. For July, I got this huge plastic bowl with their logo on it. I really had no idea what do with it. It's plastic, and as many of you know, eating out of plastic bowls gives cats chin acne. Plus it was huge! My human and I were stumped over what to post.
Finally, my human decided to use it as a training prop. One thing we work on (which has actually been used!) is to have me pose with my front paws in a bowl. You can see me practicing this here.
Since my human really didn't want me eating out of the bowl she had to convince me to put my paws in the bowl by offering me a treat to do so. It took a while for me to connect the dots, so to speak.
Sometimes I walked over the bowl to get to the treat, instead of pausing with my paws in it, like my human wanted.
Or I would stand with my front paws in front of the bowl instead of in it. Trust me, this trick is harder than it looks!
Eventually it all started coming back to me. My human said it took me long enough!
Once I finally got it, I needed to learn to stay there for a short period of time. There was only one thing left to do.
Strike a pose! Which I did. So you will see this photo on Instagram some time today, if you follow me there.
Other posts you'll enjoy:
* * *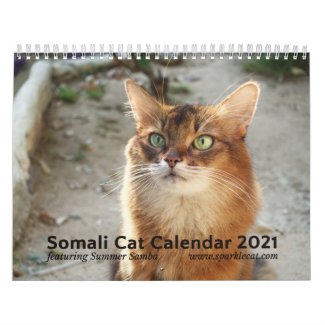 2021 Somali Cat Wall Calendar, Starring Summer
See all of Summer's merch at her
her Zazzle Designercat Shop