If you saw my photo session with my winter wardrobe, you probably figured I had some modeling outtakes… and you would be right! So I am sharing them with you today.
You might remember, before I put on any outfits, my human took a few photos of me. I was having too much fun, as you can see! She got me in mid roll here, so I look kind of goofy.
This over-the-shoulder pose in my cute pink sweater would have been really nice… if I hadn't stuck out my tongue! Sorry, I just couldn't help it.
Part of the challenge of posing with a hooded jacket is getting the hood part just right. I had some issues getting it so it didn't cover my eyes!
I bet you are surprised to see this photo! My human got this crazy idea about having Binga wear some of my dresses. Well, she is not a seasoned model like I am so none of the photos came out! Technically every photo from that shoot is an outtake, but right now I am only sharing this one and the one below.
I was worried she would stretch out my pretty dresses! She is more than three pounds heavier than I am. I am kind of glad this particular photo session was a fail.
* * *
---
---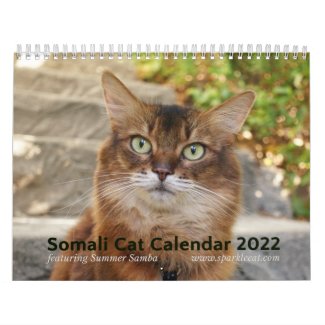 2022 Somali Cat Calendar Starring Summer Samba
See all of Summer's merch at her
her Zazzle Designercat Shop