I promised the other day that I would do a modeling session with my puffy pink jacket. So I am! Even though the weather has gone up into the 70s. But is going to cool off again for a couple of days next week, so I'll definitely need it then.
Here is a detail you didn't see when I had it on before. The puffy bow has crystals on it! Isn't that sweet? There is also a hole if I want to wear it with my harness and leash.
Here it is on, and I am doing my best modeling pose! I am going to turn around too, and try to show you how it looks from behind.
You probably still can't see the crystals on the bow all that well, but you can totally see how cute the ruffles are!
I think the ruffles are flirty, don't you?
* * *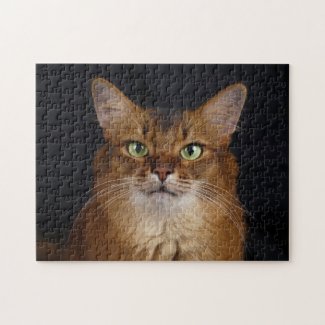 Somali Cat Photo Portrait Jigsaw Puzzle
See all of Summer's merch at her
her Zazzle Designercat Shop