Yesterday, at my Cat World Domination Day party, some of you said you wanted to see more of my 80s dress. So I'm doing a special modeling session so you can!
I will confess, I did goof off a little. I think I was still recovering a bit from the party!
Some of you wanted to see the back, so here you go! There were several details you didn't see yesterday, like the crystal crown, and the little polka dot bow in the back, right before the ruffles start.
Here's a side view. The flouncy skirt is very fun! In case you are wondering where it came from, it is actually a hand me down from Coco the Couture Cat! I've only worn it a couple of times because I couldn't find the right opportunity. It's not a red carpet or formal style dress, but it's not just any old party dress either. When I came up with the idea for the 80s party, it was obvious that this was the perfect dress.
Plus it totally goes with my favorite sunglasses!
I think this dress deserves a high five, don't you?
* * *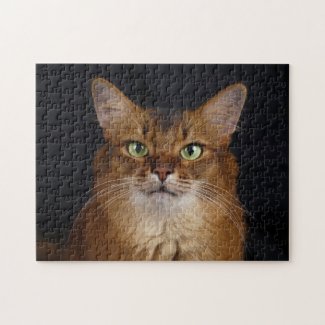 Somali Cat Photo Portrait Jigsaw Puzzle
See all of Summer's merch at her
her Zazzle Designercat Shop