I am going to give you a lesson on modeling today! A kitty can look glamorous, even if she is just wearing her everyday harness. The secret is putting yourself in the right frame of mind. If you feel beautiful, you will look beautiful! So before you start striking poses, take a few moments to call on your inner supermodel — the outer part will follow.
The over-the-shoulder look is especially popular! It's a very flattering angle. I think I am turning my head a little too far, though. I am going to try this again.
I think I got it this time! See, when you strike the right pose, viewers will tend to ignore other flaws in the photograph, like a messy background or the fact that my tail is not fluffed out like it should be. Although those things should be taken care of to begin with.
Wait, who allowed her on the set?
If she thinks she's so smart, maybe she should do this lesson instead!
* * *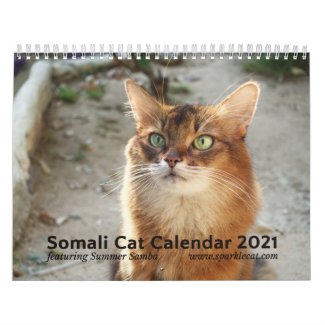 2021 Somali Cat Wall Calendar, Starring Summer
See all of Summer's merch at her
her Zazzle Designercat Shop