Even though you got to see some of my holiday wardrobe, you didn't really get to see many outfits on me. So I thought I would model some of them today. The biggest problem is that so many of my dresses have nice details on the back and it's hard to show that off — and look in the camera!
I love the pom-poms on this dress. I think they are kind of flirty!
This dress looked cute on the rack, but it turned out to be a little big on me. Which is too bad because I like the flouncy skirt a lot.
I actually like this Santa coat and hat combo (which you saw last week), but it doesn't photograph well because it is bulky. It's cute from the front, though!
This Rudolph hat is something else that does not photograph well. You haven't seen it before because my human picked it up at a local pet store that is new to us. Because it is so high on my head, you can't really see what it's supposed to be. It's actually really fun in person, but you can't tell from the photo.
And I tried wearing this elf hat again, with the chin strap tightened just a bit.
I hope you liked my holiday outfits! Did you have a favorite?
* * *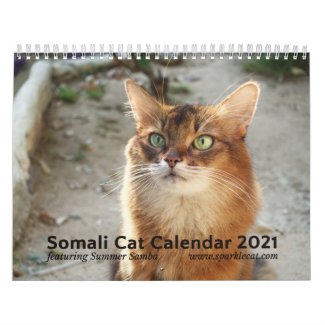 2021 Somali Cat Wall Calendar, Starring Summer
See all of Summer's merch at her
her Zazzle Designercat Shop