My outside schedule is different now that we've turned the clocks back. I get to go out earlier. And because we are really heading into late fall and winter, the light is milder, even if the temperatures haven't gone down that much. It was really a beautiful day, so I'm glad I got to have some outside time!
This time, I went out back. It's very pretty there, even in brown season.
My human wanted me to wear something fall-like, but it's still too warm for sweaters so she put this Scunci on me. You might remember it from my mystery box video. The colors aren't quite right, but it's the closest thing I have to a fall collar.
After posing in the collar for a while, we decided to go up to the bougainvilleas. They are blooming, which doesn't seem to happen very often.
In fact, most of the time my human forgets about them because she never sees blooms. But this year, they are really vibrant.
She thought they would make a nice backdrop for a portrait of me. And she was right.
Other posts you'll enjoy:
* * *
---
---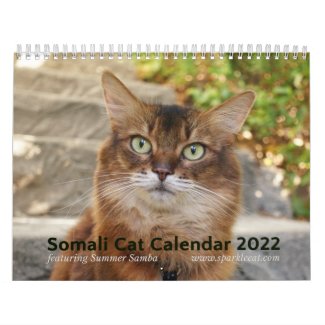 2022 Somali Cat Calendar Starring Summer Samba
See all of Summer's merch at her
her Zazzle Designercat Shop