I got to make a therapy cat visit to USC for a stress relief event. Actually it was called a "CommuniTEA Dog Party," even though it included me. I was already scheduled for next month's event, but an opening came up for October, so my human volunteered to do this one too.
The event was in a small courtyard, and included three therapy pet teams. My human set us up away from the two dog teams so that I wouldn't risk distracting them. And even before she could unzip my Sleepypod mobile bed, we were surrounded by students! We know from our previous USC visits that I am always popular, so it wasn't surprising. I spent the next hour and a half being petted and fussed over by dozens of students. It was great!
Each student was a little different, but had many of the same questions: "What's her name?" "How old is she?" "What breed is she?" A couple of them asked how I became a therapy cat. My human was happy to answer everyone's questions, and I was just happy to be petted, do tricks and eat treats. Some students were cat savvy, and put their hands out before petting me. Funny thing about that is although that's proper cat protocol, I don't often respond! That's because so many people have just come up and begun petting me that I don't mind being approached without them asking permission.
But not everyone understood cat language. While I was busy purring and making happy paws in the mobile bed, one student asked if I was stressed. My human had to explain that I was the exact opposite of stressed! She also told them that the occasional loud noise on campus may get my attention, but it was up to her to make sure I wasn't upset by any of it. Our favorite visitors were the ones who were a little scared of cats, or who thought cats didn't like them. Because of course I was more than happy to welcome their attention. My human likes to say I think strangers are friends I just haven't met yet, and that is really pretty accurate.
It was a nice afternoon, and towards the end one student said, "This is what gets me through midterms!" Which of course, was the whole point of the event. We were so happy to be part of it.
Other posts you'll enjoy:
* * *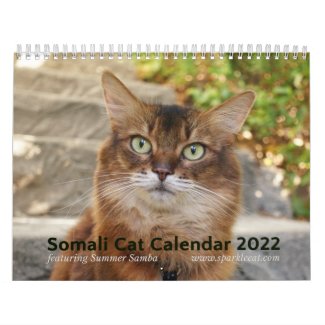 2022 Somali Cat Calendar Starring Summer Samba
See all of Summer's merch at her
her Zazzle Designercat Shop