My human never quite got a really good shot of me wearing my Mardi Gras hat. So at the last minute (meaning the night before Shrove Tuesday), she decided to give it a try. She also had some other Mardi Gras things lying around, like these beads and scarf, so they were tossed into the mix.
The scarf proved to be problematic. My human wasn't quite sure how to arrange it on me.
Clearly some ways were not going to work at all.
Because I was so agreeable, she tried it every which way. Since she kept giving me treats, I didn't care, but I was beginning to think she was just goofing off.
It got to the point that I wondered if I was even going to get the hat on! I finally had to put my paw down and demand that we get serious about this messy photo session.
In case you are wondering, yes, we finally got the shot. Without the scarf.
Other posts you'll enjoy:
* * *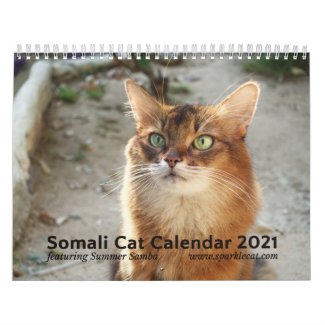 2021 Somali Cat Wall Calendar, Starring Summer
See all of Summer's merch at her
her Zazzle Designercat Shop