Are you as puzzled by this costume as I am? I gather I am supposed to be a mermaid… or rather, a mer-cat.
It totally makes no sense. I mean look at that tail, compared to my tail.
Do you know what's even stranger? This isn't a costume my human bought for me! It's a hand-me-down from Sparkle. Can you imagine her in this getup? Well, if you clicked on the link, you didn't have to imagine it. You could see for yourself.
I usually like the dresses and costumes my human has me wear, but I am really not sure about this one! I would like to know who dreamed this up.
At least I can still look cute, even in this ridiculous outfit.
* * *
---
---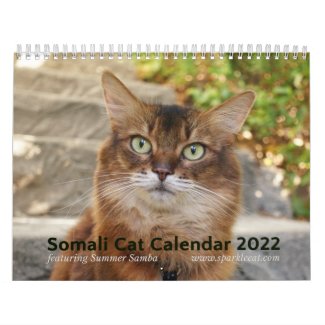 2022 Somali Cat Calendar Starring Summer Samba
See all of Summer's merch at her
her Zazzle Designercat Shop