Remember all that cat swag my human brought home from the MeowWorld/ Cat Writers Association conference? I've been pouring through it, trying to put together a giveaway! Binga and Boodie have been assisting me, but honestly, they have not been much help.
The important thing was making sure everything I picked out was going to fit into a medium sized Priority Mail box! I think I've got it worked out, and here's what is going in it:
A Petstages Catnip Chew Ring toy
A medium sized Litter Lifter litter box scoop (These are awesome! You have to give them a try to really appreciate them.)
Two hardcover Animal Planet Pet Care Library books: Cats and Senior Cats
Flips Eco-Friendly Flying Disc cat toys from Hauspanther.com
Smart N' Tasty Feline Dental Treats
A pair of Supercat Catnip Markers
A Mojo Maker – Ground Prey Toy from the Jackson Galaxy Collection by Petmate
A Catster business card holder, filled with peppermints
Sentry Hairball Chewables, Malt flavor
ZiwiPeak "Daily-Cat" Cuisine sample, Venison and Fish flavor (I tried to run off with this, so it may have a tooth mark in it!)
ASPCA cat food can cover
Best Friends bag clip
Zukes G-Zees cat treats sample, Tasty Turkey Recipe
A Pawbreaker catnip ball toy (these are staples in our house!)
1.9 oz. sample Petit Cuisine Salmon and Whitefish appetizer
Evercare Travel Lint Roller
Embrace Pet Insurance pet hair brush
Wow, that is a lot of stuff! Because this is a fairly heavy box, my human can only ship it within the U.S. but I will try to think up something good for my international pals sometime soon.
To enter, leave a comment on this blog post and then say you did on the widget below! You will have other options to get more entry points after you do that. Good luck!
* * *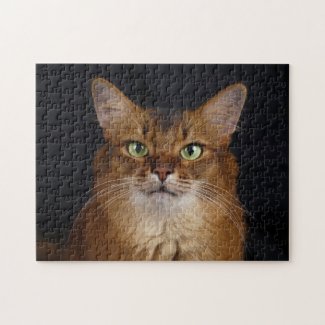 Somali Cat Photo Portrait Jigsaw Puzzle
See all of Summer's merch at her
her Zazzle Designercat Shop