My human went to CatCon LA last weekend. The only problem was… there were no cats allowed, other than a few big celebrity cats and the cats looking for homes in the adoption area. So I couldn't go, which was just as well because it was very, very crowded and my human would have worried a lot about carrying me around. The good news is that there was an event Saturday night at the nearly Hotel Figueroa called Meow Meet LA — and kitties were not only invited, they were encouraged to attend! So once my human was done with CatCon for the day, she rushed home, took a quick nap (I helped), then she brought me down to the Meow Meet!
The paparazzi were out in full force! I made sure my human handed out my business card to anyone who took a photo.
I'm included here with some of the other kitties who were at the Meow Meet!
At first, when we arrived, my human forgot to bring in my leash, so I was stuck inside my sling for about ten minutes. While I was waiting for my human to stop talking to her friend and go get my leash out of the car, I decided to do some selfies. The first one, as often happens, was totally out of focus because I moved.
Then I got distracted by some of the goings on just when I took the second shot. Maybe it was the complimentary treats that were offered.
In this one, I was definitely distracted by the complimentary treats!
I still forgot to look at the camera here, but by then my human finally was ready to get my leash.
Thanks to Almost Invisible Cat Litter for putting together this event so quickly!
* * *
---
---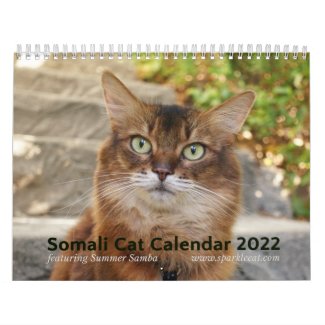 2022 Somali Cat Calendar Starring Summer Samba
See all of Summer's merch at her
her Zazzle Designercat Shop