Can you believe that a week from today is Christmas Eve? So I thought I would share some memories of Christmases past today. I'm going all the way back to 2014 and 2015. I think my very first holiday photo session included the photo above. The session turned out so well that there are still cards of it in my Zazzle shop.
My photo session with Binga didn't come out as well!
I organized a special event that year, the Santa Kitty Toy Hop, where I encouraged my friends and fellow bloggers to bring toys and other goodies to cat rescues as a way to spread holiday cheer. I'm sad I never got it together to do it again.
I had just aged into the adult alter class for cat shows, and that year, at the annual holiday show, I did really nicely!
And I was at that same show the very next year too. By the end of 2015, I had other things on my mind besides cat shows. A few months later, I would pass my therapy cat evaluation.
I also did a holiday photo shoot in 2015. I'm not sure what my human was thinking, hanging that ornament in the back off that metal rod. I do know she intended to Photoshop out the rod.
We didn't have a tree in 2014, but we did in 2015. So this was my first tree.
We cats got a couple of communal presents that year.
They were a pair of scratcher houses from Target. As you can see one of them was especially popular.
I hope you enjoyed seeing my holiday memories as much as I did!
Other posts you'll enjoy:
* * *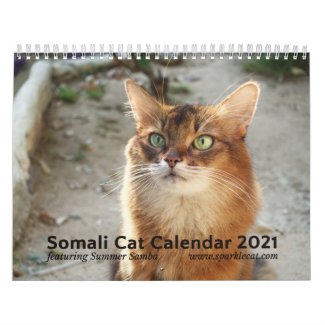 2021 Somali Cat Wall Calendar, Starring Summer
See all of Summer's merch at her
her Zazzle Designercat Shop