When my human set up my booth at Meet the Breeds, I was really worried about how plain it looked. I was so relieved to see the big cutout of Vana that you saw yesterday. But there was more.
The poster with my photos from last year was back!
Yes, they are all of me! I'm glad I'm representing the breed so well!
I will be honest — we were so busy at Meet the Breeds that my human didn't get very many good photos. I did get to meet some Instagram friends' humans who live nearby — @harley_tank_quinn and @theodore_h_kittycat. They have photos of me on their Instagram accounts.
Lola and Lexy's human came by too, and hung out with us at the booth. She brought a pair of "nerd" sunglasses that neither Lola nor Lexy would agree to wear. I don't know why — I had no problem with them! Sadly, this is the only photo of my human's that came out, with me not facing the camera! Even though the day was a big photo FAIL for us, I did a lot of meeting and greeting with bunches of people!
While my human went off and had dinner with Lola and Lexy's human, I crashed out on the bed. It was a really tiring day!
I will say, I was really happy to come home! It's too cold back east for me right now!
* * *
---
---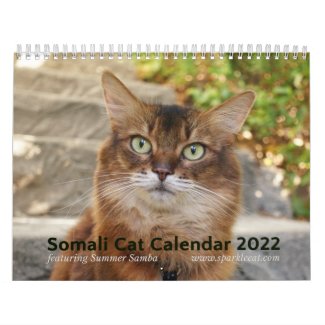 2022 Somali Cat Calendar Starring Summer Samba
See all of Summer's merch at her
her Zazzle Designercat Shop