I've got an amazing announcement for you! Especially if you live near the Chicago area. I'm doing my very first celeb-kitty meet and greet at an event — you know, where you have to sign up for a ticket and everything! Here is where I'm going to be:
That's right — it's the Meow MeetUp, July 20 and 21 in Chicago! My Meet and Greets will be at 3:30 PM both days. The location is the Donald E Stephens Convention Center, 5555 N. River Road in Rosemont.
Meow MeetUp is an awesome event that benefits local rescues and cats in need. Last year, Meow MeetUp raised over $10,000 and donated over 16,000 cans of food! There will be lots of fun. General admission gets you into the exhibit hall, all presentations, workshops and demonstrations, the Pampurr Parlour and the Adoption Lounge. For a little extra, you can also sign up for Kitty Yoga, the Kitty Cafe, the After Party (over 21 only), breakfast and kitty bingo and a Paint Your Pet class. A couple of the celeb-kitty meet and greets have a fee, but most of them — including mine — are free! You just need to sign up when you get your ticket because they can only fit in a limited number of people in an hour.
When my human isn't managing me for my Meet and Greets, she will be running a booth for her publishing and media company, FitCat! She'll have books, cards, and refrigerator magnets for sale! If you come to Meow MeetUp, stop by and pick up a few things!
You can buy your tickets (and sign up for my Meet and Greet) here! And here's some awesome news — they let me have some weekend passes to give away! If you are around the Chicago area and want to come, just let me know in the comments. The first three Chicago locals who say they want the tickets will get them. Don't worry, you will have more chances if you follow me on Instagram or subscribe to my newsletter.
I'm so excited! This is going to be so much fun!
* * *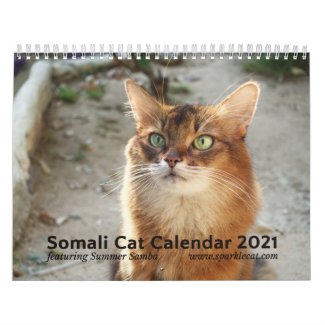 2021 Somali Cat Wall Calendar, Starring Summer
See all of Summer's merch at her
her Zazzle Designercat Shop