I have so many decisions to make about which outfits to pack for BlogPaws! You will see my choices laid out tomorrow. First, it's time to take a selfie in one of the outfits I'm thinking of bringing.
But you know what? Just when I was going to do my selfie, my human had a change of plans! She had to take off for a meet and greet with our state assemblyperson. It was at a neighbor's home, and you will not believe who she saw there!
Well, you probably will believe it — the neighbor cat. My human got to the house, and didn't know anybody there. So she sat around looking at her iPhone. When the Assemblyperson started talking, she put the phone down, but then somebody nudged her leg… and it was this kitty!
The neighbor cat just wanted attention, and you know my human was ready to give it to her. My human may not have talked to any of her fellow constituents, but she was immediately on the cement floor of the patio with this cat.
In fact, while everyone else was discussing government stuff, my human was sitting there, wondering if the cat wanted to do a selfie.
Well, the neighbor cat tried, but she was not a pro. So it was back to me!
I'll show you how it's done!
And there you have it.
My human wasn't totally anti-social to the other humans. She did have some things to say to her representative about healthcare that were halfway useful. But she is definitely more social with kitties! What about your human? Here's a poll to see which way your human leans… no, not politically! I mean, as far as being a human-human or a kitty human!
Loading ...
* * *
---
---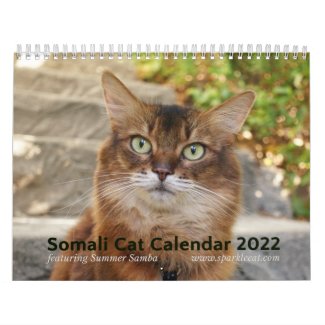 2022 Somali Cat Calendar Starring Summer Samba
See all of Summer's merch at her
her Zazzle Designercat Shop