I thought it would be fun to have a flashback post today of my early days with Binga. All the photos here are from the first two months I came to live here. I was still a kitten, and that shows! Some of these you may have seen, others you never saw before!
There was never a dull moment around here with Binga. Sometimes I wasn't sure if she was playing… or, as my human puts it, "playing for keeps."
Where ever I went and whatever I did, she wanted to be part of it right from the start. I don't think she wanted to be in my sling carrier, though.
Nothing, especially food, was safe whenever she was around.
And since she had to be a part of everything, that meant she also sometimes had to wear outfits, just like me. I don't think she appreciated that.
Sometimes her extra added voice was appreciated!
Sometimes… well, I just had to deal.
I hope you enjoyed these flashbacks!
* * *
---
---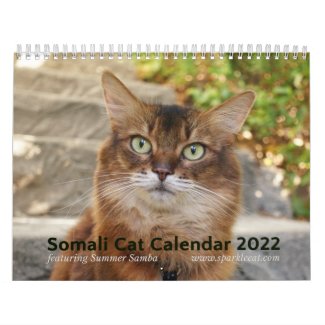 2022 Somali Cat Calendar Starring Summer Samba
See all of Summer's merch at her
her Zazzle Designercat Shop