I know that St. Patrick's Day is nearly a month off, but we are already coming up with photo sessions. I wasn't sure what my human had planned here, although she seemed really focused. She knew exactly the props she wanted to pull out.
It started off sort of ordinary, with her putting the hat and this necklace on me. But I knew she had something else up her sleeve.
It was actually just off-camera — my dark glasses. She said I was supposed to be the 80s Irish rapper MC Paddy. Where does she come up with these things? She insisted that old school Irish hip hop was really a thing, but I was not convinced.
This was the silliest idea for a St. Patrick's Day photo session ever.
My human needs to do a serious photo session! Don't you agree?
Other posts you'll enjoy:
* * *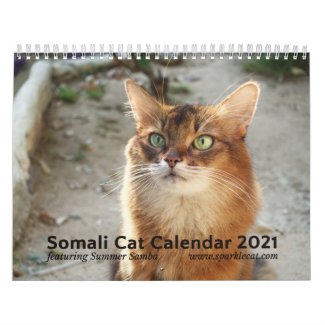 2021 Somali Cat Wall Calendar, Starring Summer
See all of Summer's merch at her
her Zazzle Designercat Shop