"Attention PetSmart Shoppers"
The month had barely started when my human and Boodie got stuff in the mail. My human's was some sort of certificate from the ASPCA. Apparently she gives them money sometimes, which is all right by me. If she's not going to buy me something, she should put her money towards other, more needy animals.
I was surprised to see Boodie got something that was actually addressed to her.
It turned out to be a birthday card. The cat even looked a little like her.
Boodie thought that the card was her birthday gift and started to eat it, so my human took it away.
It was actually a coupon for a birthday treat… maximum $3 value. Pretty cheap if you ask me.
Even my human wondered if $3 was too cheap a gift for Boodie. She thought maybe she should get something else to supplement it. Some company left this flyer on our doorstep with — yes — another coupon. But my human even had to agree that Boodie would probably not like a bath as a birthday gift.
So while she was trying to figure out what to get Boodie, I found myself a big, fat moth! It was quite exciting.
My human even took a video of me going in for the kill. Then she took it away from me! She said it was too easy to catch so it was probably sick. Like my being able to catch it had nothing to do with my fine hunting skills.
Finally my human went to PetSmart. She came back with a new Drinkwell pet fountain. She hated the old fountain because it grew algae, no matter how often and how thoroughly she cleaned it. Frankly we weren't too fond of the algae, either.
We were expected to be all excited over it, like it was some big deal. Ha! Do you have any idea how many of these foutain things we've been through? But I finally grudgingly gave it my mark of approval.
Boodie was far more fascinated by it.
She liked the box even better.
Eventually my human brought out the birthday gift for Boodie, who had been patiently waiting.
It was all my human could find for $3. But you know what? Boodie didn't care. She loved her present!
I wasn't all that impressed, but whatever. It wasn't my birthday anyhow.
But to my surprise, there was even something for me — my very favorite treats! I was told I could help myself.
Binga was envious. She is a big pig, so she is never invited to help herself.
But even the treats weren't the best thing my human brought home. She got a new yoga strap and it smells absolutely yummy! It is my yoga strap now.
* * *
---
---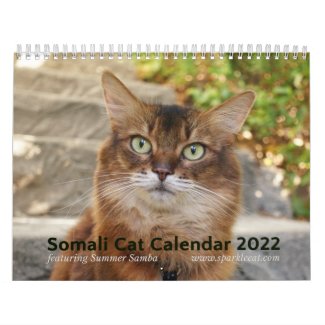 2022 Somali Cat Calendar Starring Summer Samba
See all of Summer's merch at her
her Zazzle Designercat Shop