Boodie's Birthday Party
My human says that Boodie is everything that cat haters complain about. Like, she's aloof — well, she's not even aloof. She just runs away and hides from most humans who approach her. And if there's a hairball hacked up on the floor, it's a pretty sure bet it is hers. She sheds like mad.
And she's the laziest cat I've ever met. Not to mention the fact that she's not very bright.
Boodie wound up at the Amanda Foundation because she and her sister were left abandoned in a box at the parking lot of a vet clinic. Usually the Amanda Foundation only rescues animals from the pound, but the vet happened to be one they used a lot, so they got stuck with Boodie and the other cat. They both cringed and hissed at everyone who came near them. They did like to play, though. Boodie still likes to play.
Of course nobody wanted to adopt a cringing, hissing kitty. So my human offered to take her home to "socialize" her. (The other cat, amazingly enough, did get adopted eventually.) I think the Amanda Foundation called for Boodie once and then my human never heard from them again. You might say Boodie is the cat that no one wanted.
Well, everybody who hears Boodie's story feels sorry for her. "That's because they don't have to live with her," says my human. But my human must feel a little sorry for her too, because she decided to have a birthday party for her this year. She doesn't know the exact date of her birthday, but judging from her age when she first brought her home (estimated to be about nine months), she guessed she was born in May. So Boodie got a really cool birthday gift.
Of course, there was a downside (there always is around here): she had to wear a birthday hat.
That didn't last very long since Boodie really hates anything sitting on her head. She couldn't wait to get her paws on her birthday gift.
Naturally Binga wanted in. She got a little rough with the toy, though, so my human decided to make her wear the birthday hat.
Since I'm such a dainty little thing with such a small but infinitely well-shaped head, the birthday hat was far too big for me. And I wasn't all that excited about the birthday gift anyway. I know I'll get something even better for my birthday next month.
But just when I thought I was off the hook, my human pulls out this weird, puffy thing. I thought it was edible, but it wasn't.
Ugh! It was yet another one of those clown collars. Once again, my afternoon was ruined.
Don't humans realize we cats hate this kind of humiliation? We are fierce creatures with weapons already built in! My human is lucky I choose not to use mine.
* * *
---
---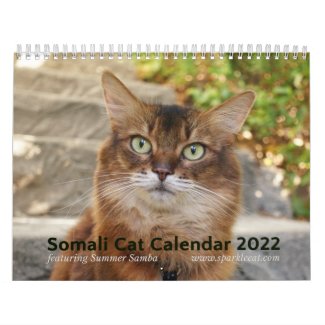 2022 Somali Cat Calendar Starring Summer Samba
See all of Summer's merch at her
her Zazzle Designercat Shop