Since humans are being encouraged to wear masks in an effort to slow the spread of Covid-19, my human thought I should do the same. At least for the public service announcement value. The only problem was trying to find a mask that would fit my head, which is considerably smaller than my human's. A lot of people have been creating makeshift masks out of things like scarves. So my human thought maybe I could use my traveling scarf as a mask.
Well, that didn't seem to work out very well!
My pink scarf was even worse, because it is bigger. There had to be a better solution.
A friend of my human's came through. She was making masks for a bunch of people she knew, and when she made my human's, she made a tiny mask for me.
Even though it fit, sadly, I didn't like it any better than the scarves. And it turned out to be a bit fragile and came apart.
At a loss for anything better to do, my human put it on my head.
Oops, it's falling off!
Okay, so I won't be wearing a mask during our isolation. But my human will whenever she leaves the house. And I hope you will too!
* * *
---
---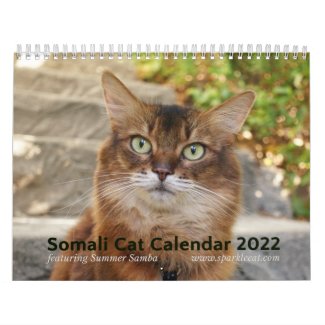 2022 Somali Cat Calendar Starring Summer Samba
See all of Summer's merch at her
her Zazzle Designercat Shop