My human has had this hat sitting around for a while and since it is Mardi Gras, she decided to pull it out. There is a reason why it hasn't been seen on the blog until now.
It's a bit awkward! It always makes one of my ears go wonky.
Placing it low over one eye was problematic in the past, because I didn't like it. But today I was cooperative. Maybe it was the awesome freeze dried chicken treats that inspired me.
We tried it over different ears and I did a bunch of different poses.
In fact, we came up with some really good photos! Too bad the Mardi Gras sign on the hat is a touch out of focus, or this would have made a great card for my Zazzle shop!
Anyhow, I'm done and ready to laissez les bon temps rouler! Can I have my treats now?
* * *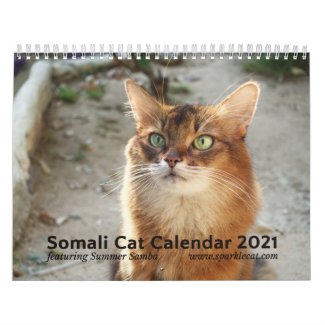 2021 Somali Cat Wall Calendar, Starring Summer
See all of Summer's merch at her
her Zazzle Designercat Shop