How to Be a Cheap Date
I love living in southern California, with its warm, sunspots and breezy, early spring views. But I hear some kitties aren't as fortunate as I am. Some of them even have to deal with this thing called "snow," whatever that is.
My human said that there are a lot of kitties that are less fortunate than me, even ones who don't have any snow. Then she started talking about "the economy." I didn't catch what she said, though, 'cause I took a nap. Then I took a bath.
But apparently, this economy thing is making it so that humans can't buy their cats as many cat toys as before. So I've decided to devote this whole month to finding inexpensive ways for cats to have fun. That way, humans have no excuse to avoid playing with us.
One of the best toys around is only a few dollars, and it happens to be one of my favorites: the Cat Dancer.
I play with mine all the time.
Here's a tip: combine the Cat Dancer with an inexpensive cardboard cat house/scratcher. Attacking it from inside the house is especially fun!
But humans who are so broke that they can't even afford that still have options — just about any cat will play with a Q-Tip.
A Q-Tip can be killed a few dozen times before it is, in fact, dead.
One of the best toys a cat can have is an empty box!
It needs to be big enough for adventures. Smaller boxes are better for taking naps.
Don't let this tragedy happen at your house: recycling day. Always save a few boxes for us kitties.
Another don't: Pulling all the drawers out of the buffet so we can explore inside it is really lame.
Finally, humans shouldn't bother spending their money on battery-operated "toys." This is a mistake I see over and over again. One day this thing
showed up at our house — apparently it was a cast-off from another cat.
I was even less impressed with it when my human turned it on and it started rolling around the living room.
Binga really hated it. It sent her flying to the top of a file cabinet. Actually, seeing that was kind of fun, so I take back what I said about battery-operated toys.
* * *
---
---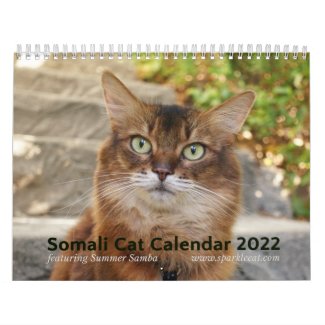 2022 Somali Cat Calendar Starring Summer Samba
See all of Summer's merch at her
her Zazzle Designercat Shop