March Monotony
The month had a promising start — my human was doing a lot of paperwork, including that "tax" thing she does every year about this time. This meant I had new files to sit on.
Unfortunately, the bigger desk made it easier for her to mess with all the stuff she needs to do, so she was only at it for about a day.
Then she got a big package of papers that she called "editing." Binga commandeered them.
After that, things got pretty boring. Boodie and I had nothing to do but doze for hours. To be honest, we didn't find it to be all that tragic.
We did find some good empty boxes to hang out in
Binga, meanwhile took over my kitty cubicle.
Laundry day was also fun. Some cats like sleeping on clean laundry. We like it dirty.
As usual, Easter was a bust. My human got us a couple of extremely lame Easter toys.
We were not interested in them in the least. I wouldn't even go near them, so my human grabbed Binga and forced her to pose with them. As you can see, she was mortified.
One of the toys was an electronic egg with spinning lights. Binga hated it.
The other item was a wind-up bug that came in an egg.
That was too much for Binga. She finally cracked and attempted to kill it.
One cool thing my human got had nothing to do with Easter. It was a "humungo, badass mofo shredder" (her words).
Actually it wasn't the shredder that impressed me. It was the humungo, badass mofo box it came in. I used it as a salle de bains.
* * *
---
---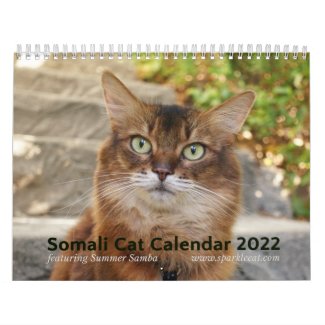 2022 Somali Cat Calendar Starring Summer Samba
See all of Summer's merch at her
her Zazzle Designercat Shop