Look what came in the mail — a package from Maxie!
It's the "Miracles for Maxie" bracelets that we ordered, and a photo of him. You may recall that a couple of months ago, Maxie suffered complications after a dental procedure. He vomited while still under anesthesia and his esophagus was so severely damaged that his survival was in doubt. Through the help of a different vet and healing purrs from the Cat Blogosphere, Maxie managed to pull through. The bracelets are meant to help pay for some of the vet bills, and my human got one for each of us kitties.
Which meant we all had to pose with them.
Even though Maxie is much better, his food choices are limited and his ordeal has taken a toll on the whole family — the other two kitties, Lilly Lu and Iris were clearly stressed out by everything Maxie has been going through, and his human spent thousands of dollars saving his life. Even though the clinic where the dental was done has refunded that money and made some restitution, Maxie's human, Laura, has spent many more thousands of dollars than the amount received. There is an auction going on through July 31 to help her out. I suggest you go by and see if you would like to bid something!
The sad part about what happened to Maxie is that while it is not common, vets and their staff do make mistakes, and pets suffer. Another member of the Cat Blogosphere, a Sphynx kitten named Neala, died when a tech fed her the wrong food after surgery to correct a persistent right aortic arch. When something goes wrong during a veterinary procedure, it's a complex issue; this article from MSNBC a few months ago explains why. The problem is that if the true worth of a pet begins to be taken into consideration, the resulting increase in insurance costs to the vets is bound to raise already-high rates for pet care. The best thing humans can do is to educate themselves about our health so they know when something is wrong, and so that they can articulate any problems to their vet. Clear communication won't solve everything, but it helps. And humans also should be willing to get a second opinion if they do not believe that something being done is in their pet's best interest. Most veterinary personnel want to do what's best for your pet and the sort of things that happened to Maxie and Neala don't happen very often. But it never hurts to ask questions, and to be willing to learn about what makes us tick!
* * *
---
---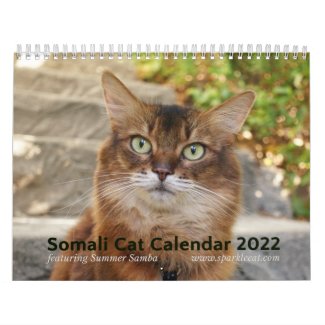 2022 Somali Cat Calendar Starring Summer Samba
See all of Summer's merch at her
her Zazzle Designercat Shop