Remember when I was shopping the other day? If you read the secret messages on my blog posts (you can see them if you roll your pointer over the photos on a laptop, or place your finger on the photo on mobile), you might recall I mentioned that I did get a toy. This is it. Unlike the bug toy I rejected, this one smelled strongly of catnip!
It's really cute! It's a tea cup with a couple of tea bags full of catnip! I am ready for a tea party!
Nobody warned me how potent this nip was…
Now look what's happened! I lost the cat toy.
I could have sworn it was there just a minute ago….
Oops! There it is. Just call me the Mad Catter.
This tea party has gone out of control!
* * *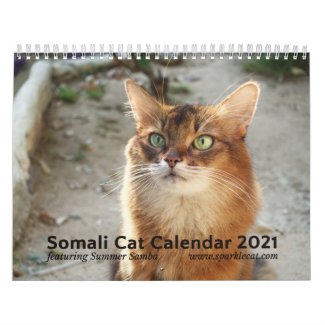 2021 Somali Cat Wall Calendar, Starring Summer
See all of Summer's merch at her
her Zazzle Designercat Shop